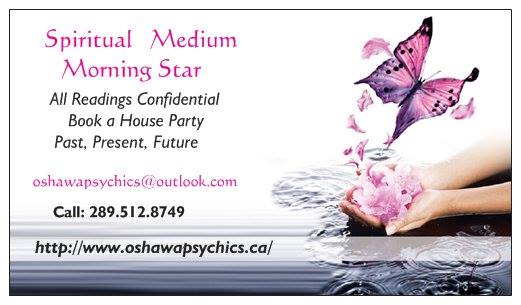 Call today to book your private session:
289-512-8749
APPOINTMENTS AVAILABLE 5 DAYS A WEEK

IN THE COMMUNITY
I participate in many events around Durham and Kawartha lakes. Please inquire about where I will be next.
Future Events:
One day workshop on House Clearing of unwanted Spirits and Energies
Sept 9/2018 Held in Millbrook Limited Spaces Sign up ASAP at rev.fburton@gmail.com fee to be paid at time of reservation $60.00
OSHAWA PUBLIC LIBRARY: Wednesday, October 28, 2018 at 6:00 pm
For one mystical night the Library will host a panel of exper mediums and psychics who will share their knowledge and gifts. Join me for an engaging panel discussion followed by a question-and-answer period.
McLaughlin Branch, Auditorium
See More HERE
Ordination Day! After many years of mentoring, teaching, conducting readings, and dedicating myself to this precious gift I am blessed to celebrate my ordination as a minister into the Spiritualist Church of Canada.
Psychic Parties! Call to book yours today. Great for a social gathering of friends and family; great for bridal showers, special events or no reason at all! Morning Star is sure to impress!
Want To Know? The answers are here...
Past Lives? Your Future? About your Spirit Guides? Do you have questions that need accurate answers about Love, Money, Career, Relationships? You might have messages that your passed loved ones want to share with you; It would be my honour to deliver those exactly as they are given to me.
As an accomplished Psychic Medium in the Durham Region, I have dedicated my life to using my special gift for helping others. I focus on the areas of Psychic Clairvoyance, Mediumship, Tarot, and Spiritual Healing.
There are many areas where I have worked tirelessly to perfect my God given gifts. When you love what you do you never get tired! I've been practicing full time for almost 40 years!
In addition I have taught many others in Canada and the USA, how to use their gifts and continue to be a leader and a mentor in my professional circle.
Privacy and Confidentiality Guaranteed!
I am available for single readings and house parties - call or email for details.
I also work for Charities and many mini venues to promote and share my gifts
Certified Social Services Worker, Counsellor and Life Coach
"I got all the answers I was looking for! I'm so glad I called -L (Whitby)"
"I'm so happy that I'm now with the partner I am meant to be with, your guidance was the key! Can't thank you enough. –J"
"My clients are always surprised at a first reading, what and how much I can share with them after only minutes of sitting with me. They return time and time again."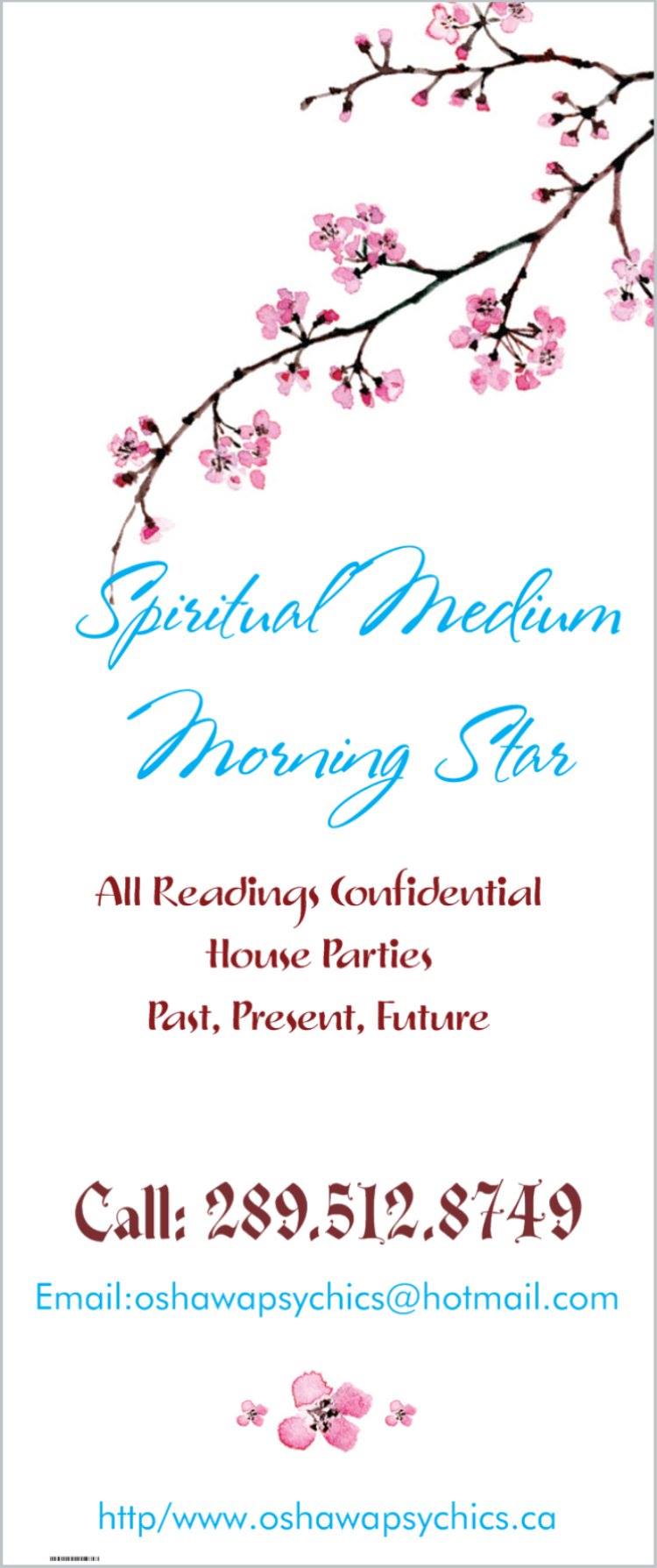 Oshawa, Whitby, Ajax, Courtice, Pickering, Bowmanville, Durham Region, Peterborough, Lindsay, Ontario | 289-512-8749